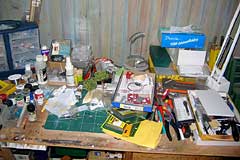 On my workbench, I'm building an O Scale Southern G6 from Connoisseur Models. That's my first brass kit. So, I must learn some tips to improve my technics.
Actuellement en construction, un kit laiton de la marque Connoisseur Models. C'est un modèle anglais à l'échelle O du type 030 (G6 de la Southern Railway). Comme c'est en fait mon 1er kit en laiton, il va falloir que j'apprenne encore de nouvelles techniques et mettre en oeuvre certaines astuces pour réaliser ce modèle.
I would like to thank Jim McGeown, the Connoisseur Models's owner, and some Gauge 0 Guild forum contributors for their different advices during this building. Concerning the chassis, I prefer using a Mashima 1824 motor with a flywheel and an 1/40 gear set to improve the slow down.
Jim McGeown, l'animateur de Connoisseur Models, propose ce modèle, comme d'autres artisans en Grande-Bretagne, avec ou sans moteur (Mashima), roue et prise de courant (Slater's). J'ai toutefois préféré au moteur Mashima 1833 proposé un moteur Mashima 1824 équipé d'une réduction 1 par 40 et d'un volant d'inertie disponible par exemple chez Markits.
So, I've begun by soldering the chassis but don't hesitate to read and read again the notice before (click on the photos to see them full size).
Comme indiqué sur la notice, qu'il faut lire et relire, j'ai commencé par le châssis. Attention à faire en sorte que les axes de chaque essieu soient correctement positionnés, ce qui garantira un bon fonctionnement du modèle au final. Vous pouvez utiliser un dispositif d'alignement comme celui proposé par Metal Smith Ltd (cliquez sur les photographies pour les obtenir en grand format).
Mais avant tout, listons les quelques outils et équipements indispensables pour construire un kit en laiton :
– un fer à souder 25W,
– de la soudure,
– du décapant à soudure,
– une fraise pour agrandir si nécessaire les trous,
– quelques limes,
– un crayon fibre de verre et
– du papier émeri de différents calibres (400, 600 et 1000).
Si vous soudez des pièces en métal blanc, il vous faudra aussi un fer à souder à basse température (150°C) disponible par exemple chez Squires et de la soudure pour métal blanc comme la Carr's 70 disponible par exemple chez C&L. La cerise sur le gâteau est bien évidemment un poste de soudure à résistance électrique (SRE) disponible par exemple chez ALP2M qui permet d'effectuer certaines soudures plus facilement.
One tip : Don't use too much solder but don't hesitate to use much flux to make soldering easier
Un conseil : N'utilisez pas trop de soudure mais n'hésitez pas faire usage du décapant à soudure
Tags: 7 mm Scale, Brass kit, Connoisseur Models, Echelle O, Fr, Gauge 0 Guild, Kit laiton, O Scale, Us