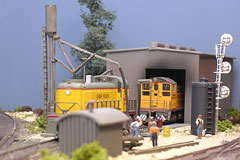 Impossible for a modeler to stop building models, dioramas, layouts. Here are however some months when I produced nothing for lack of time, of idea but also place. Knowing that only the difficulty advances the people, I thus decide to dash into the construction of a new layout.
Après avoir construit un réseau s'inspirant du célèbre Gorre&Daphetid de John Allen, j'ai décidé de construire un réseau d'exposition basé cette fois-ci sur le principe du Timesaver.
 Some facts/Quelques informations
– Scale/Echelle : N
– Size/Dimension : 1,20 m X 0,40 m
– Track/Voie : Peco 55 (rail and turnout)
– Control/Commande : DCC Digitrax
– Where/Lieu : UP short line, State of Oregon
– When/Epoque : 1950-1960

At the beginning/Le commencement
The infrastructure is constituted at first by a quite simple benchwork (10 mm plywood and 30 mm square wood beam). To decrease however the weight in it, I realized certain number of holes in the saw with bell (Cf. the aircraft manufacturing).
L'infrastructure de base est inspirée du principe du module.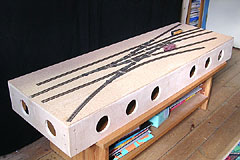 During the building/La construction
Realized in 5 mm plywood and 12X18 wood beam, this showcase is fixed to the layout by 6 bolts. This fixation allows a fast dismantling in case of intervention on the layout or on the box.
Le show case est réalisé avec du contreplaqué de 5 mm et des tasseaux. Il est fixé au réseau grâce à des boulons, permettant un démontage et donc un accès aisé si nécessaire.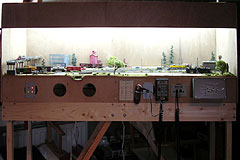 It also allows to integrate a lighting system indispensable to the accentuated of the various details. The lighting system consists of three 2ft fluorescent lamps (2 day light and one cool white lamps).
3 tubes fluorescents de 18W ont été installés pour mettre en valeur les différents éléments du décor.

To improve switching puzzle, I've built traverser.
Pour augmenter les possibilités de  jeu, j'ai ajouté une coulisse utilisant des glissières de tiroir.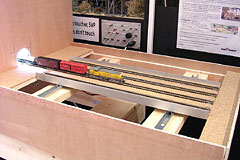 And to improve handling (don't forget, Point Davis is an exhibition layout!!!), I've built collapsible legs.
Et pour faciliter le transport, j'utilise un support avec des pieds repliables.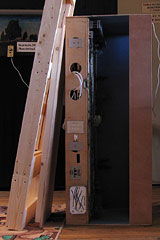 Shelf used to stock DCC and sound system.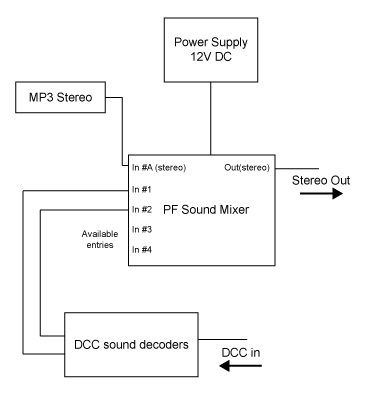 Une étagère permet de stocker le système digital ainsi que le système sonore.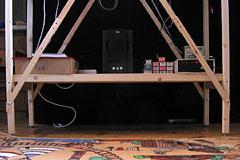 Another close-up views / D'autres vues
Tags: Echelle N, Exhibition layout, Fr, N Scale, Point Davis, Réseau d'exposition, Us