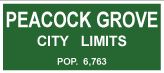 Welcome to Peacock Grove. A shortline serves this town.
Bienvenue à Peacock Grove (littéralement le bosquet du paon), une petite ville rurale américaine. Cette Bourgade est desservie par l'Union Pacific.
This is an other O Scale project. No big mountain, no amazing trestle or no industrial area!!! Peacock Grove, like Badger Valley, is just a rural town in the Middle West. Trackplan is very refined but like say British railroad modelers, Keep It Simple… A fiddle yard, like a sector plate, can be added to improve the possibilities. Click on the trackplan to see it full size.
Encore un nouveau projet de réseau à l'échelle O qui reprend en partie les idées définies dans les précédents (Cf. Badger Valley). Les dimensions globales du réseau ont été revues à la baisse afin de permettre une meilleure intégration. Le plan de voies a été épuré mais la philosophie reste toujours la même. Place à la manoeuvre délicate!!!

Some facts
– Period : The end of the sixties
– Locale : The Middle West
– Scale : O
– Size :  2 ft X 12 ft
– Benchwork : 3 modules
– Track : Handlaid code 100 and 125
– Turnout : no. 6
– Control : DCC
Download the XtrkCad file
Quelques informations
– Thème: Voie secondaire dans l'Amérique rurale
– Echelle : O (1/48)
– Dimension : 3,90 X 0,65 m (3 modules)
– Voies et aiguillages : Code 125 et #6
– Commande : DCC
Télécharger le fichier XtrkCad
Tags: Blue print, Fr, Idée de projet, O Scale, Réseau étagère, Shelf layout, Union Pacific, UP, Us