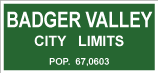 Welcome to Badger Valley. Union Pacific shortline serves some industries.
Bienvenue à Badger Valley, littéralement la vallée du blaireau, une ville comme il en existe des centaines aux Etats-Unis d'Amérique. Un embranchement de l'Union Pacific dessert les quelques industries de cette bourgade qui compte tout de même plus de 67000 habitants.
This is an other O Scale project. No big mountain, no amazing trestle or no industrial area!!! Badger Valley is just a rural town in the Middle West. Trackplan is based on a mix of John Allen's timesaver and some other projects that I designed. I advise people to read  the Iain Rice book about Shelf layouts. A fiddle yard, like a sector plate, can be added to improve the possibilities. Click on the trackplan to see it full size.
Voici donc un nouveau projet de réseau à l'échelle O. Direction le Middle West et ces petites villes desservies par les chemins de fer. N'oublions pas que les chemins de fer ont construit les Etats-Unis d'Amérique!!! Rien ne manque même pas le petit dépôt permettant de  maintenir le switcher utilisé en local. Je me suis inspiré du non moins célèbre Timesaver de John Allen ainsi que d'autres précédents projets. Pas de grande vitesse mais de la manoeuvre sur les différents embranchements disponibles. Une coulisse (non indispensable en l'état) peut être ajoutée pour augmenter les possibilités de jeu. Coulisse coulissante ou pont secteur, ces 2 options sont tout à fait envisageables. Conçu pour l'échelle O, ce plan peut-être adapté à différentes échelles. Pour le HO, ne comptait pas diviser par 2 la longueur mais d'un tiers. Il ne vous faudra donc plus que 3 mètres. Quant aux matériels roulants, un switcher et une GP7 comme engin moteur, une dizaine de wagons de marchandise du type box car, tank car et hopper car feront votre bonheur.

Some facts
– Subject : Shortline in the Middle West
– Scale : O
– Size : 4,50 X 0,75 m (3 modules)
– Track and Turnout : Handlaid code 125 and #5
– Control : DCC
Download the XtrkCad file
Quelques informations
– Thème: Voie secondaire dans l'Amérique rurale
– Echelle : O (1/48)
– Dimension : 4,50 X 0,75 m (3 modules)
– Voies et aiguillages : Code 125 et #5
– Commande : DCC
Télécharger le fichier XtrkCad
A découvrir à partir du n° 18 de O Scale Trains (les n° suivants sont aussi disponibles en téléchargement sur le site), la construction pas à pas d'un réseau à l'échelle O
Useful links / Liens utiles
O Scale Trains
Irish Tracklayer
Korber Models
Custom Signals
Atlas O
Valley Model Trains
AM Hobbies
Tags: Blue print, Fr, Idée de projet, O Scale, Réseau étagère, Shelf layout, Us