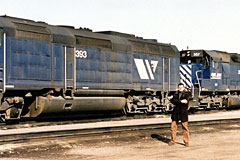 In April 2001, I was at Chicago during two weeks. So, I could take some railroad pictures. Chicagoland is one of the best area if you want to see trains. Some of these pictures have never published.
Je suis allé durant 2 semaines à Chicago en avril 2001. Situé au bord du lac Michigan, Chicago est un des endroits aux Etats-Unis d'Amérique où l'on peut voir de nombreux trains de marchandises. Certaines de ces photographies n'ont jamais été publiées mais c'est maintenant chose faite!!!
I took these pictures at Rochelle, Bensenville, Emlhurst and Chicago downtown (click on the photos to see them full size).
Alors équipé d'un appareil argentique, la qualité, une fois numérisée, n'est pas forcément au rendez-vous. Mais ces photographies ont certainement un intérêt bibliographique voire historique. Elles ont été prises à Rochelle, haut lieu ferroviaire où les lignes de l'UP et de la BNSF se croisent, à Bensenville et à Emlhurst, 2 villes situées dans la banlieue proche de Chicago et dans le centre de Chicago dont certaines depuis le haut de la "Sears Tower". Le magazine Trains a consacré le numéro de juillet 2003 à Chicago. Les différents lieux à ne pas manquer sont listés. Ce numéro est donc indispensable (cliquez sur les photographies pour les obtenir en grand format).
Tags: BNSF, Chemins de fer, Chicago, Fr, Railroad, Railways, Union Pacific, Us