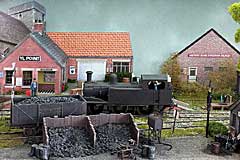 Les chemins de fer ont joué un rôle important lors de l'industrialisation du Royaume-Uni. Aujourd'hui encore, et grâce à des nombreuses associations, ces chemins de fer continuent à exister pour le plus grand bonheur de tous.
The railways have played a major role in the economic development of the United Kingdom. Today, thanks to numerous actions led by associations, these railways have a new life for everybody's happiness.
C'est cette atmosphère que j'ai souhaitée reproduire à l'échelle 1/43,5ème. Bienvenue à YL Point, dans les années cinquante, quelque part dans le Sud-Est de l'Angleterre  (cliquez sur la photographie pour l'obtenir en grand format).
I wanted to reproduce this atmosphere on O Gauge. So welcome to YL Point, during the fifties, somewhere in the South East of England (click on the photo to see it full size).
Quelques informations / Some information :
– Echelle / Scale : O (1/43,5)
– Dimension / Size : 1,20 m X 0,40 m  + 0,50 m X 0,12 m (coulisse / fiddle yard)
–  Voie / Track : code 125 construction intégrale / handlaid track
Tags: 7 mm Scale, Exhibition layout, Fr, O Scale, Réseau d'exposition, Us, YL Point