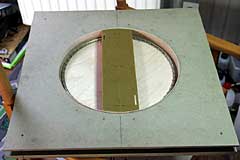 On my workbench, I'm building an O Scale 42 feet turntable from Metal Smith Ltd.
Actuellement en construction, un kit de la marque Metal Smith Ltd. C'est un pont tournant de 42 pieds à l'échelle O.
I would like to thank Jean-Louis Simonet, my friend, for his different advices during this building especially the motoring system.
Je tiens à remercier Jean-Louis Simonet, mon ami, pour ses conseils avisés sur le système de motorisation du pont tournant. J'ai utilisé un moteur réducteur  (rapport  de 1 par 380) de chez Conrad et une transmission (rapport de 1 par 10) de chez l'Octant pour motoriser l'ensemble.
So, I've begun by building the base (kit from Metal Smith ltd) and the motoring system but don't hesitate to read and read again the notice before (click on the photos to see them full size).
Comme indiqué sur la notice, qu'il faut lire et relire, j'ai commencé par la base (kit complémentaire disponible chez Metal Smith Ltd) et le système de motorisation. Attention à faire en sorte que la transmission soit bien dans l'axe. Pour se faire, vous pouvez utiliser des roulements à bille (et le support associé), matériels disponibles aussi chez Conrad (cliquez sur les photographies pour les obtenir en grand format).
Jean-Louis explique sur le forum Team Track la construction de son pont tournant à l'échelle HO. vous y trouverez d'autres informations complémentaires sur le système de motorisation qu'il a utilisé.
To be continued…
A suivre…
Tags: 7 mm Scale, Echelle O, Fr, Jean-Louis Simonet, Kit laiton, Metal Smith Ltd, O Scale, Pont tournant, Turntable, Us