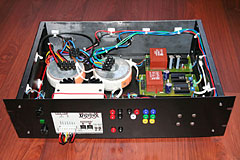 I've conceived an electronic system allowing to supply on the engines, the turnouts, but also allowing to integrate a 4th dimension, the sound.
I decided to build a box, a box reusable for all my current and future layouts. The UPS was born. I used 19 inches system rack to build it. We find in this box 12 V ~ and 15 V ~ power supply, a DCC system, a symmetric power supply for the command of turnouts (Tortoise) and the sound system based on a mixing electronic card conceived by a friend modeler and an electronics engineer, Patric Froucht. This electronic card allows to mix various sound sources (reader MP3, decoders DCC sound) and to allow their broadcasting on one amplified system (PC speakers with a bass booster in fact). This system cannot of course answer all the expectations of railway modelers but corresponds to my expectations considering the size of the layout. Banana plugs permit a fast and effective connection of the various sources of power supply.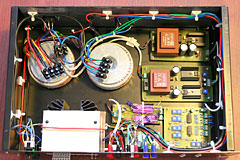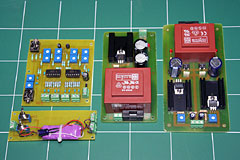 Pour chaque réseau, j'ai conçu un système électronique permettant de faire fonctionner les engins moteurs, les aiguillages,… mais aussi permettant d'intégrer une 4ème dimension, le son.
J'ai décidé de construire un boîtier, boîtier qui me permettra de faire fonctionner tous mes réseaux actuels et futurs. le système UPS était né. J'ai utilisé un rack 19″. On retrouve dans ce boîtier des alimentations 12 et 15 V ~, un système DCC, une alimentation symétrique pour la commande des aiguillages (moteurs lents de type Tortoise) et le système sonore basé sur une carte de mixage conçu par un ami modéliste et électronicien, Patrick Froucht. Cette carte permet de mixer différentes sources sonores (lecteur MP3, décodeurs DCC son,…) et de permettre leur diffusion sur un seul et unique système amplifié (des enceintes amplifiées d'ordinateur avec un bass booster dans mon cas). Ce système qui ne pourra pas répondre à toutes les attentes des modélistes ferroviaires que nous sommes répond à mes préoccupations à la vue de la taille du réseau. Des fiches bananes permettent un raccordement rapide et efficace des différentes sources d'alimentation.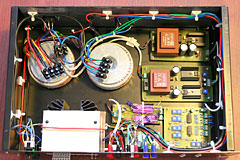 Tags: Alimentation, Commande numérique, DCC, Electronics, Electronique, Fr, Power supply, Us