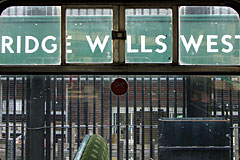 Spa Valley Railway is another part of the historic London, Brighton and South Coast Railway (Southern Railway). An association preserves now this installation from Royal Tunbridge Wells (West) to Eridge.
Le Spa Valley Railway est une des nombreuses lignes de la LB&SCR qu'une association a mis en valeur entre Royal Tunbridge Wells (West) et Eridge. Tout n'est pas encore opérationnel mais les bénévoles s'affairent à la tâche jour après jour, comme par exemple le poste d'aiguillage de Goombridge.
Back to the past guaranted when you go to Royal Tunbridge Wells West station to take this heritage train.
Retour vers le passé assuré lors de cette visite où tout est mis en oeuvre (matériels, roulants, bâtiments, habits des bénévoles,…) pour replonger le spectateur quelques décennies en arrière. Implanté à Royal Tunbridge Wells, la Spa Valley Railway exploite quelques miles d'une ligne de chemin de fer qui assure à Eridge la correspondance avec la ligne London-Uckfield. A noter que cette connexion n'est effective que depuis mars 2011.
You can take the train at Royal Tunbridge Wells West or at Eridge (click on the photos to see them full size).
Il est possible de prendre le train depuis Royal Tunbridge Wells ou Eridge, un parking plus important est disponible dans cette dernière gare. Un voyage s'impose (cliquez sur les photographies pour les obtenir en grand format).
For more information about Spa Valley Railway, link to the official website.
Pour en savoir encore plus sur le Spa Valley Railway, le site officiel.
Tags: England, Fr, LB&SCR, Southern Railway, Spa Valley Railway, SR, Sussex, Tourist railways, Train touristique, Tunbridge Wells, Us