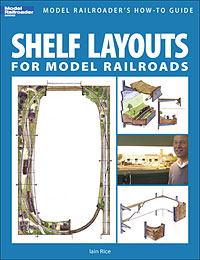 If you have a limited space to build your dreamt layout, shelf layout can be the solution. Iain Rice, the famous England railway modeler, has published a new book about it.
Si vous n'avez pas assez de place pour construire le réseau de vos rêves, un réseau le long du mur (littéralement réseau étagère) peut-être la solution. Iain Rice, un célèbre modéliste ferroviaire anglais, vient de publier un livre à ce sujet.
With lots of details, you 'll find some different scale trackplans and building solutions. This book is available here.
Richement illustré, vous y trouverez des plans à différentes échelles mais aussi des solutions pour la construction de votre réseau. Ce livre est disponible sur ce site.
Tags: Building, Fr, Iain Rice, Réseau étagère, Shelf layout, Trackplan, Us