I tried to use a RJ Models O scale point lever on my Gn15 diorama, Kelgura.
Reproduction d'un levier d'aiguillage ("point lever" en anglais) à l'échelle  O utilisé en Australie, il a été installé sur un diorama à l'échelle G.
Fabriqué par RJ Models, ce type de levier est disponible chez différents distributeurs dont Berg's Hobbies.
J'avais prévu d'installer ces leviers d'aiguillage sur mon réseau d'exposition Koonunga Jct mais la dimension importante du levier m'a convaincu de faire un essai sur mon diorama Kelgura à l'échelle G.
Click on the photo to see it full size
Le résultat en image (cliquez sur la photographie pour l'obtenir en grand format).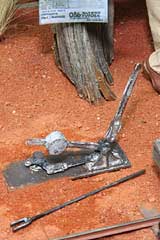 Tags: Fr, Gn15, Kelgura, Levier d'aiguillage, On30, Point lever, Us