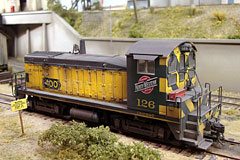 Open house on November 21st 2009 at PN160, a model railroad association based in suburbian  Paris (just near the Clichy Levallois train station). Some layouts at different scales were exhibited.
Portes ouvertes ce 21 novembre 2009 au PN160, une association de modélisme ferroviaire basée en région parisienne. Des réseaux à différentes échelles (en N, l'échelle de référence du club, en O et en G) étaient présentés.
I could  rediscover an amazing O scale exhibition layout, the Merchant Row System. Click on the photos to see them full size.
Cette journée fut l'occasion de redécouvrir un superbe réseau à l'échelle O, le MRS. Les photographies se passent de tout commentaire.
To get more information about this exhibition layout, look at the MRS page on traiN'ternet.  To chat with MRS authors, subscribe on the Team Track forum
Pour en savoir sur ce réseau, consultez la page consacrée au MRS sur traiN'ternet. Pour discuter avec les auteurs de ce réseau, inscrivez-vous sur le forum Team Track
Tags: Fr, Merchant Row System, MRS, O Scale, Open house, PN160, Portes ouvertes, Us