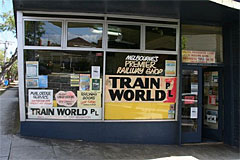 Throughout the world, you can find some hobby shops. Go to Australia, to Canada and to USA to discover three hobby shops (Train World in Melbourne, George's Trains in Toronto and Al's Hobby Shop in Chicago) I could visit.
Vous pouvez trouver des magasins de modélisme ferroviaire à travers le monde. Je vous propose aujourd'hui de découvrir trois de ces magasins que j'ai pu visiter  (Train World à Melbourne, George's Trains à Toronto et Al's Hobby Shop à Chicago) lors de différents séjours à l'étranger.
These hobby shops are very different but they have one common point the diversity of  model railway products you can find.
Ces magasins de modélisme ferroviaire sont très différents mais ils ont en commum la richesse des produits proposés, une sorte de caverne d'Ali Baba pour les modélistes ferroviaires que nous sommes.
Australia / Australie (Melbourne)
Train World website / Le site Web de Train World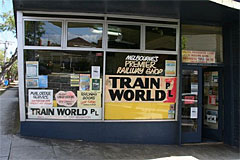 If you go to Sydney, don't hesitate to visit at Parramatta the Berg's Hobbies shop.
Si vous allez à Sydney, n'hésitez pas à vous rendre à Parramatta pour découvrir le magasin Berg's Hobbies.
Canada (Toronto)
George's Trains website / Le site Web de George's Trains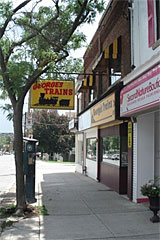 USA (Chicago)
Al's Hobby Shop website / Le site Web de Al's Hobby Shop
Ce magasin est situé non loin de la gare d'Elmhurst qui est un excellent endroit pour photographier des convois de l'Union Pacific. Le triage de Proviso, un des plus importants du secteur, est juste après cette station.
Tags: Australia, Canada, Chicago, Fr, Hobby shop, Magasin de modélisme, Melbourne, Model railroad, Model railway, Modélisme ferroviaire, Toronto, Us, USA