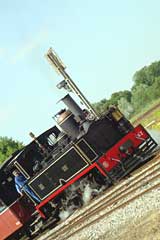 CFBS is a wonderful tourist railway you must visit. This French association has preserved the atmosphere of the "réseau des bains de mer" in La Baie de Somme, a most beautiful bay in the world.
L'association du Chemin de Fer de la Baie de Somme a su préserver depuis plusieurs dizaines d'années ce réseau à voie métrique. De Cayeux sur Mer au Crotoy, elle vous  permet encore aujourd'hui de voyager à travers des paysages divers et variés.
Let's go to Cayeux sur Mer to Le Crotoy to do a new journey (click on the photos to see them full size).
Je vous propose de réaliser à nouveau ce voyage avec cette fois-ci de nouvelles photographies. Merci à mon fidèle assistant, Joseph, pour sa patience et sa participation (cliquez sur les photographies pour les obtenir en grand format).
Cayeux sur Mer
Hurt
Lanchères
St-Valery sur Somme
Noyelles sur Mer
Morlay
Le Crotoy
Tags: Baie de Somme, CFBS, Fr, Tourist railways, Train touristique, Us