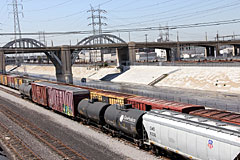 I was at Los Angeles during 2 weeks in April 2011. So, I went to the 4th St Yard to take some pictures from S Mission Road, Myers St and the 4th St bridge.
Lors d'un voyage à Los Angeles, je suis allé une demi-journée le long du faisceau de voies de l'Union Pacific de la 4ème rue. Ce faisceau de voies dessert de nombreux embranchements particuliers le long de la Los Angeles River que tous connaissent à travers certains films américains (Police Fédérale Los Angeles pour n'en citer qu'un). A noter qu'un faisceau de voies de la BNSF se trouve de l'autre côté de cette rivière.
Discover some pictures I took (click on the photos to see them full size).
Découvrez une sélection des photographies prises durant ce séjour (cliquez sur les photographies pour les obtenir en grand format).
Tags: 4th St Yard, Fr, Los Angeles, Union Pacific, UP, Us, USA